The Importance of Health and Vitality in Old Age
Health and vitality play a crucial role in old age. This stage of life can be accompanied by physical and mental changes. But it is also a period of life in which life experience and wisdom come to light. A healthy lifestyle can help keep you feeling fit, energized, and healthy as you age. And it's not just about preventing disease. Health in old age also means maintaining a high quality of life and the ability to enjoy activities that bring you joy.
Health in old age depends on many factors, including genetic predisposition, environmental factors and lifestyle habits. A balanced diet, regular exercise and taking care of your mental health will help maintain and promote your vitality as you age.
Senior sports: physical activity keeps you healthy in old age
Physical activity is an important building block for health and fitness in old age. Exercising in old age is not only there to control weight and reduce the risk of chronic diseases. Physical activity also helps promote mental health by reducing stress and improving mood.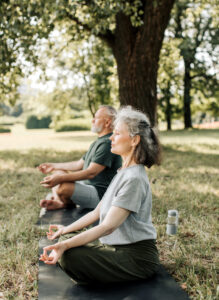 Despite the clear benefits of physical activity, there are still many seniors who are not sufficiently active. It's never too late to start a sport that gives you pleasure and is appropriate to your physical abilities. Even small amounts of exercise can have great health benefits.
Suitable Exercises for Seniors
There are many exercises and activities that are especially suitable for the elderly:
Walks: A daily walk is an excellent way to strengthen the cardiovascular system while enjoying the fresh air.
Swimming: Swimming is easy on the joints and can help improve endurance and muscle strength.
Gardening: Gardening can be a nice way to stay active and do something creative at the same time.
Dancing: Dancing is not only an excellent exercise, but also a fun way to socialize.
Nutrition in old age: How a balanced diet keeps you healthy
A healthy and balanced diet is crucial in old age. Dietary needs can change with age. Calorie intake may need to be reduced, while the need for certain nutrients remains the same or even increases.
Adaptation of Eating Habits to Age
Older people may find it helpful to eat smaller, nutrient-dense meals throughout the day, rather than a few large meals. It is also important to ensure adequate hydration to avoid dehydration.
Here are some tips for adapting eating habits to age:
Choose whole grains instead of refined grains.
Prefer fresh fruits and vegetables to processed or canned products.
Eat more lean protein such as fish, poultry and legumes.
Limit the consumption of sugar, salt and saturated fats.
Prevention and management of age-related diseases
With age, the risk of certain health problems increases. However, through prevention and early intervention, many of these problems can be avoided or successfully treated.
Regular health check-ups are important to detect and treat diseases at an early stage. In addition, a healthy lifestyle – a balanced diet, regular physical activity and the renunciation of tobacco and excessive alcohol consumption – can help to prevent many age-related diseases.
Dementia prevention strategies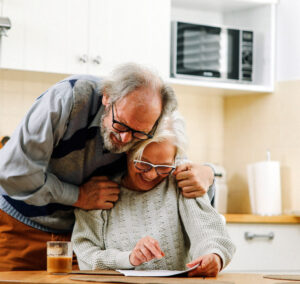 Dementia is one of the biggest health fears in old age. However, there are several strategies that can reduce the risk of dementia:
Stay mentally active: Reading, solving puzzles, making music or learning a new language can keep the brain fit.
Maintain social connections: Regular interactions with friends and family members, as well as participation in social activities, can promote mental health.
Eat a healthy diet: There is evidence that a diet rich in fruits, vegetables, whole grains, lean proteins, and healthy fats can reduce the risk of dementia.
Exercise regularly: Regular physical activity can reduce the risk of dementia.
Tips and strategies for a healthy and vital life in old age
Leading a healthy and vital life in old age is an achievable goal. Here are some key strategies that can help you:
Exercise: Regular physical activity can help you feel energetic and alive. Find activities that you enjoy and that fit your fitness and abilities.
Nutrition: Make sure you eat a balanced diet with plenty of fruits, vegetables, whole grains and lean proteins.
Social interactions: Cultivate your social relationships. Get together with friends, participate in group activities, or volunteer.
Mental activity: Keep your brain fit and healthy by regularly engaging in mentally challenging activities.
Recommendations – how to Stay Healthy in Old Age
The idea of living a healthy and vital life in old age may seem unattainable to some people. But the truth is that it is not only possible, but also feasible. A long, fulfilling, and healthy life depends on a variety of factors, including your attitude, lifestyle, and the strategies you adopt.
It's up to you to make conscious choices and adopt behaviors that promote your health and well-being as you age. Regular physical activity, eating a balanced diet, maintaining social relationships, and maintaining mental activity are some of the key strategies that can help you.
It's important to choose activities that bring you joy and that fit your fitness level and abilities. Likewise, your diet should be varied and nutritious to provide your body with what it needs.
Societal interactions can help promote mental health and foster a sense of belonging. Finally, mental activity can help keep your brain fit and healthy, potentially reducing your risk of dementia.
In conclusion, a healthy and vital life in old age is quite achievable if you choose the right approach and attitude. With dedication and positivity, you can live a full and healthy life at any age.