A comprehensive view for patients and therapists
Mobile physiotherapy provides a convenient and effective way to receive therapeutic services in the familiar environment of your own home. In this article, we will look at the merits and specifics of mobile physiotherapy from both the patient's and the therapist's perspective.
What is mobile physiotherapy?
Mobile physiotherapy, often also known as a home visit to physiotherapy, is a form of physiotherapy care that takes place directly at the patient's home. It differs from inpatient physiotherapy, which is usually carried out in a clinic or practice. Mobile physiotherapy offers the same professional care and therapeutic treatment as inpatient physiotherapy, but with the added convenience and flexibility that comes with therapy in your own home.
Who benefits from mobile physiotherapy?
Mobile physiotherapy is a flexible and effective method that appeals to a wide range of patients. Under:
Elderly: For seniors who have difficulty leaving their homes, mobile physiotherapy provides access to essential therapy services.
People with reduced mobility: Patients with physical disabilities or mobility impairments can benefit significantly from therapy in their own environment.
People with tight schedules: For those with demanding working hours or other commitments that make it difficult to attend therapy appointments in a practice, mobile physiotherapy offers a practical solution.
Postoperative patients: People recovering from surgery, especially after orthopedic procedures such as hip or knee replacements, can benefit tremendously from at-home physical therapy.
Which diseases and symptoms can be treated on the move?
Possible applications of mobile physiotherapy
Mobile physiotherapy is suitable for treating a variety of diseases and symptoms. Here are some of the most common ones:
Backache: Back pain is one of the most common ailments treated by physiotherapy. Mobile physiotherapy can help relieve pain and improve mobility.
Arthritis: Physical therapy can help alleviate the symptoms of arthritis and improve mobility and quality of life.
Neurological diseases: Mobile physical therapy can be effective in treating conditions such as Parkinson's disease, stroke and multiple sclerosis.
Postoperative rehabilitation: After surgery, especially after orthopedic procedures such as hip or knee replacement, mobile physiotherapy can play an essential role in restoring mobility and independence.
Chronic lung diseases: Physical therapy can help improve lung capacity and relieve breathing difficulties.
Sports injuries: Physical therapists can help athletes heal faster after injuries and prevent future injuries.
Who is allowed to offer mobile physiotherapy and how much does it cost?
Requirements and costs of mobile physiotherapy
In most Western countries, including Germany, the UK, and the US, mobile physiotherapists must meet the same qualification standards as their counterparts in clinics or practices.
There may be differences in the billing of services, depending on each country's specific health policies and laws. However, it is common for many health insurance plans to cover mobile physical therapy, especially if it is prescribed by a doctor.
Benefits of mobile physiotherapy for patients
Mobile physiotherapy comes with a number of benefits that make it an attractive option for many patients.
Why patients benefit from mobile physiotherapy
Comfort: One of the biggest advantages of mobile physiotherapy is comfort. Patients can be treated in the familiar environment of their own homes, which can reduce stress and anxiety.
Time saving: With no travel time and costs, patients can use their time more efficiently and focus on their recovery.
Individually tailored support: Therapists can better assess the patient's individual condition and needs in their own environment and create a therapy plan tailored to the patient.
Benefits of mobile physiotherapy for therapists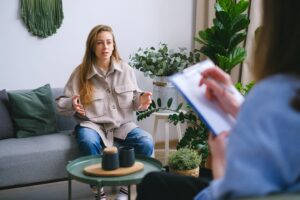 For therapists, mobile physiotherapy offers the opportunity to reach a wider customer base and have flexible working hours. In addition, treating patients in their home environment can provide a deeper understanding of their needs and challenges, allowing for more effective and personalized treatment.
Why therapists benefit from mobile physiotherapy
In summary, therapists can particularly benefit from a mobile orientation of their service from the following three aspects:
Expansion of the customer base: Therapists can reach more clients by providing mobile services.
Flexibility: Therapists can have flexible hours and adjust their schedule accordingly.
Better patient understanding: By treating patients in their own environment, therapists can gain a deeper understanding of their life situation and challenges, which can ultimately lead to better therapy outcomes.
How does the search for a mobile physiotherapist work?
On GesundeListe.de you can easily and quickly find a mobile physiotherapist near you. Simply enter your zip code or city in the search box, select "Mobile Physiotherapy" from the list of services and click "Search".
How do I register as a therapist with GesundeListe.de?
If you are a therapist and want to offer your services on GesundeListe.de, the sign-up process is simple and straightforward. Simply click on "For Therapists" in the top navigation bar and follow the instructions to create your profile.
FAQ: Your questions about mobile physiotherapy answered
Is mobile physiotherapy as effective as physiotherapy in a practice?
Yes, mobile physiotherapy is just as effective as treatment in a doctor's office. In fact, in some cases it can even be more effective, since the therapist is able to carry out the treatment in the real environment of the patient and better respond to individual needs.
Do I need special equipment for mobile physiotherapy?
In most cases, you do not need special equipment for mobile physiotherapy. The therapist usually brings all the necessary materials and equipment. Sometimes everyday objects can also be used for certain exercises.
How do I find a qualified mobile physiotherapist?
Finding a qualified mobile physiotherapist can be quite simple. On GesundeListe.de, you can search for mobile physiotherapists in your area and view their profiles, qualifications, and reviews to find the best therapist for your needs.
Physiotherapy as the key to better health and quality of life
Mobile physiotherapy not only offers the comfort and convenience of being treated in the familiar environment of one's own home, but also allows for personalized and effective care tailored to the specific needs of the patient.
For therapists, mobile physiotherapy offers the chance to reach a wider range of patients, have a more flexible way of working and develop a deeper understanding of their patients' needs.
With GesundeListe.de, it's now easier than ever to find a mobile physiotherapist or offer your services as a mobile physiotherapist. Learn how mobile physical therapy can support your lifestyle and health needs, and join our growing community today. Explore the benefits of mobile physiotherapy with GesundeListe.de – support your lifestyle and health needs effectively and conveniently.